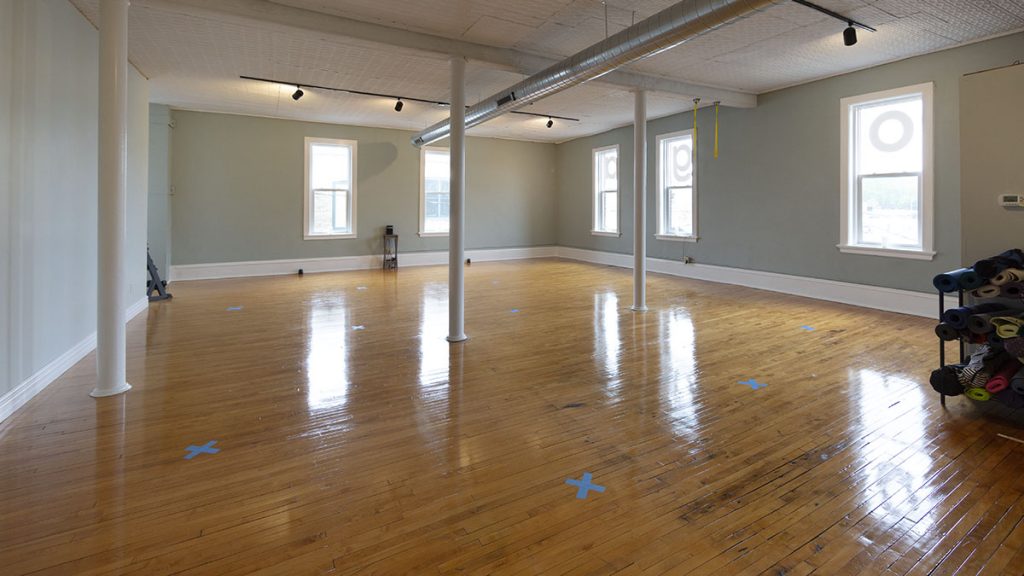 Welcome! The Lake Mills Yoga Co-op is a locally-operated, volunteer-run non-profit dedicated to growing and improving the wellness of the greater Lake Mills community. Our cooperative was founded in 2012 and we are now the most comprehensive yoga studio in Jefferson County, WI. We have a reputation for providing a broad range of high quality yoga & functional fitness instruction at an affordable price all in a comfortable, welcoming environment. All of our Full-Time Yoga and Fitness teachers are certified. We also welcome teachers in training under the advisement of one of our certified Yoga or Fitness teachers. The first class is always free with no further obligation. See our rates.
As a non-profit co-op, our single focus is on the increased physical, mental and spiritual well-being of our members and our community.
Studio Guidelines
Please consider the risks and benefits to any activity in the current conditions before participating and proceed accordingly.  For our part, we've establish a set of requests and requirements to create a safer environment for all students and staff.  Please read and consider the following guidelines.
If you are experiencing any cold or flu symptoms or anyone in your household is ill, please stay home, rest, and we will see you when you've recovered!
Starting 8/23–Masks will once again be required for all in-studio classes regardless of vaccination status.
Sign in procedures:  all students must sign in at least one hour prior to class through MINDBODY.  You will be automatically checked in as you register.  The sign in iPad will be removed to reduce common points of contact.  An updated waiver has been added to our MINDBODY account and you may be prompted to sign electronically before registering or purchasing classes.
Please prepay for classes, memberships, and punch cards through the MINDBODY app or website.
You are free to cancel any reservation at no charge until one hour prior to class.  After this point, registration is set, and you will be charged standard class fees for no-shows.
Yoga class sizes will be limited to 15 participants, fitness classes to 7.  Waitlists are established for all fully booked classes.  You will be notified by email when a spot becomes available.
Our thanks to you for allowing us to offer yoga to the Lake Mills community. 
LMYC