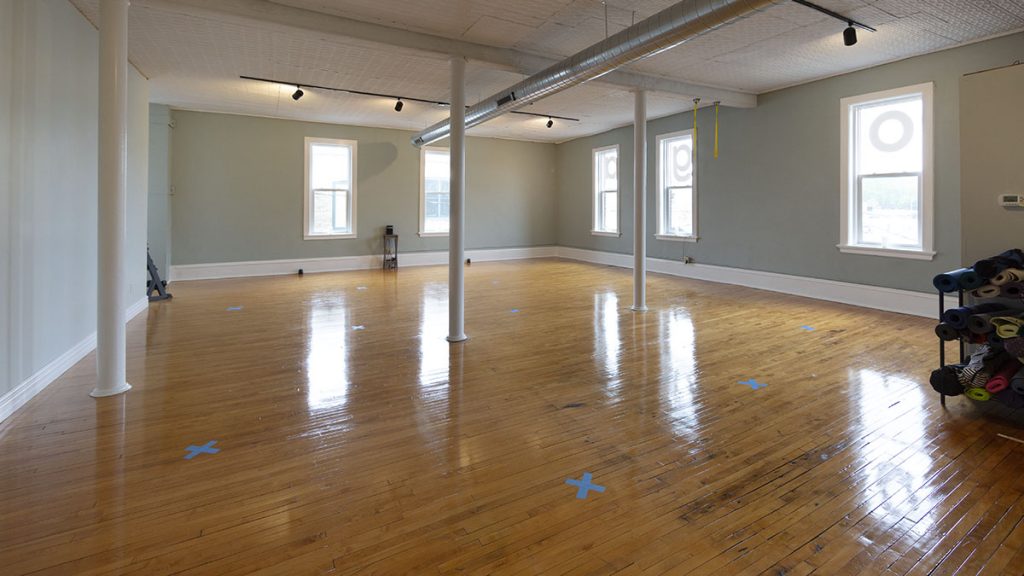 Welcome! The Lake Mills Yoga Co-op is a locally-operated, volunteer-run non-profit dedicated to growing and improving the wellness of the greater Lake Mills community. Our cooperative was founding in 2012 and we are now the most comprehensive yoga studio in Jefferson County, WI. We have a reputation for providing a broad range of high quality yoga & functional fitness instruction at an affordable price all in a comfortable, welcoming environment. All of our Full-Time Yoga and Fitness teachers are certified. We also welcome teachers in training under the advisement of one of our certified Yoga or Fitness teachers. The first class is always free with no further obligation. See our rates.
As a non-profit co-op, our single focus is on the increased physical, mental and spiritual well-being of our members and our community.
Coronavirus Update – Studio Reopening June 1
Classes resume Monday, June 1st! We can't wait to see all of you again and open the doors to our freshly painted studio. Many thanks to Nathan and Janet for the days of work they put into brightening this beautiful space!
We've thought long and hard about the best way to resume classes and realize no single option will work for everyone. Please consider the risks and benefits to any activity in the current conditions before participating and proceed accordingly. For our part, we've establish a set of requests and requirements to create a safer environment for all students and staff. Please read and consider the following guidelines for re-opening.
If you are experiencing any cold or flu symptoms or anyone in your household is ill, please stay home, rest, and we will see you when you've recovered!
Updated sign in procedures:  all students must sign in at least one hour prior to class through MINDBODY.  You will be automatically checked in as you register.  The sign in iPad will be removed to reduce common points of contact.  An updated waiver has been added to our MINDBODY account and you may be prompted to sign electronically before registering or purchasing classes.
Please prepay for classes, memberships, and punch cards through the MINDBODY app or website.
If you would like an extension for an expired membership or punch card, send an e-mail to lakemillsyoga@gmail.com and we will be happy to help you out.
You are free to cancel any reservation at no charge until one hour prior to class.  After this point, registration is set, and you will be charged standard class fees for no-shows.
Yoga class sizes will be limited to 10 participants, fitness classes to 7.  Waitlists are established for all fully booked classes, and you will be notified if a spot becomes available.
The floor is marked with an X at the center point for each mat to ensure 6′ spacing between practitioners.
Masks will be required for all in-studio practices.  This will seem awkward and uncomfortable at first, but it's not impossible!  Disposable masks will be available, but we suggest bringing your own for your comfort.  
It's almost summer!  Some of your favorite classes will move outdoors to Commons Park in the center of Lake Mills.  Better air flow reduces viral concentration therefore no masks are required outdoors.  Weather related cancellations are expected for classes dedicated outdoors only and will be announced by e-mail, Facebook, and Instagram no later than one hour before class.  No one will be charged for classes cancelled by the co-op.
Bring any props you require, leave anything you don't need at home.  No studio props or mats will be supplied.
Instructors will not provide any hands-on assists or adjustments.
Staff will wipe down all commonly touched surfaces after each class with CDC approved products.  Please wipe bathroom faucet handles post use with the provided wipes.
The studio will be open Saturday, May 30th from 9:00-11:00 a.m. if you need to pick up your mat.  Please observe social distancing rules and wear a face covering in the studio.  
Our thanks to you for allowing us to offer yoga to the Lake Mills community. We're thrilled to get re-started!
LMYC