All weekly LMYC yoga teachers are YTT-200 or YTT-500 certified. We also offer fitness classes led by qualified exercise enthusiast and opportunities for teachers-in-training to hone their skills. Whether you're looking to unwind or break a sweat, you're sure to find a class to suit your needs.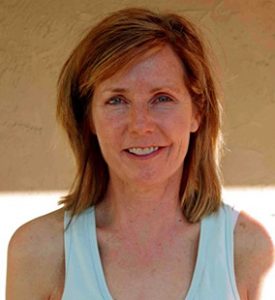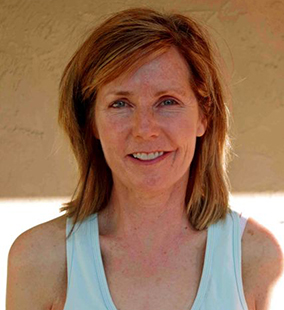 Susan Maloney–Gentle Yoga
As a middle school classroom teacher for nearly 30 years, Susan used her yoga practice as a way to relieve stress while gaining strength and flexibility. The focused awareness and mindfulness practiced on the mat slowly began to transfer into other aspects of her daily life. What began as physical exercise has evolved into a means of maintaining a calmer, more balanced, mental and emotional state. In other words, Yoga makes her happy!
After finishing training from Haleybird Studio in Milwaukee in Integrative Yoga Therapy (200-hour IYT), Susan taught a variety of classes at the Wisconsin Athletic Club and the Rock Lake Activity Center. Since she truly believes that Yoga is for everyBODY no matter the age, size, or shape, she strives to provide classes that are safe and sustainable for all levels of fitness. A mix of postures, breath work, meditation, and relaxation are incorporated into every class. She is passionate about sharing the healing power of yoga, and helping others feel better in their bodies.
Lindsey Schaub–Vinyasa Yoga, Children's Yoga, Yin
Lindsey first approached yoga as a way to spice up her fitness routine, but it changed the course of her life. She gained a new-found sense of clarity through regular practice and learned healthy ways to cope with anxiety, finding confidence and contentment. Lindsey is RYT-200 and completed her 200-hour teacher training at Feel Your Best with Debra Hennesy. She feels grateful to be able to connect with others and share yoga as an amazing vehicle which helps us navigate through life with more compassion and presence. As an instructor, she believes in empowering students to help them become more aware of their bodies. Lindsey is a life-long learner who hopes to continue growing and expanding her knowledge of movement, the body, and the sacredness of yoga.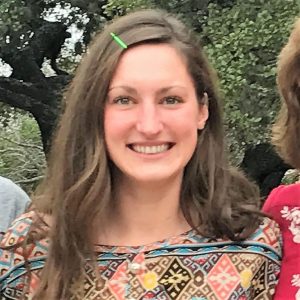 Olivia Beran–Vinyasa Yoga, Vinyasa Slow Flow
Olivia first found yoga as her mother's sidekick. She started attending classes with her mother at their neighborhood yoga studio in Austin, Texas. It was an on-again-off-again, just-for-fun practice all the way through college. When she moved to Madison in 2012, her practice deepened and became more regular when she found a yoga community in Madison. Her relationship with yoga grew even more when she attended Zuna Yoga's 200-hour teacher training in Bali in January of 2018. Her three-week immersion with the Zuna tribe was life changing. Olivia learned and practiced how to truly tune into the breath and allow it to guide movement. She also established a meditation practice. Being fully present and consumed in the now became the focus, and she strives to carry that philosophy both on her yoga mat and in everyday life.
Susan Running–Vinyasa Yoga
Susan took her first yoga class a few months before her 50th birthday and was immediately hooked!  She wants everyone to know it is never too late to start yoga! She wanted to share the incredible gift of yoga with others, and in June 2021, completed her 200-hour training with Jessica and Al Noche through their Kramas Yoga School.  
Susan has worked as a middle school counselor for 30+ years, and is also trained in mindfulness education, as well as yoga for children/teens.  Her other passions include learning about all things "wellness" and helping coach others on their wellness journeys.
Above all, she strives to keep equanimity and the mind-body-spirit connection at the heart of her classes and her life.
Alyssa Ploessl–Vinyasa Yoga
Alyssa first discovered yoga in a high school physical education class and soon realized that it would become a lifetime practice. A practice of asana, pranayama, and meditation, but also a practice of being truthful, a practice of being kind, a practice of being fearless, peaceful and happy. She believes that the practice of "yoga" is continuous; it does not stop when you roll up the yoga mat. Yoga includes the way you live your life, the way you relate to your family, friends, co-workers and to strangers on the street. This is the lifelong process of developing yogic awareness.
Alyssa completed a 200 Hour Vinyasa Yoga teacher training course in 2015. Since then, she has completed numerous other trainings in Yin Yoga, pranayama, alignment, assisting, and more. Alyssa believes that you never stop being a student of yoga and has plans to continue her education in other areas of yoga in the future.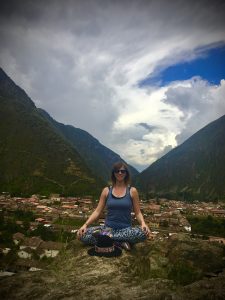 Linnea Phillips–Gentle Yoga
Linnea Phillips has been enchanted by yoga for many years. After thinking for some time about training to share her love with others, the Co-op generously offered a scholarship that served as the nudge to make it happen.
Linnea flew to the breathtaking Andes Mountains for her 200-hr YTT in February 2020. Less than two weeks after she returned safely from Peru, the shutdown began. She is deeply grateful to have had the time to ground and gain countless tools that helped her to better support herself and her family during the ever-changing months to come. 
This summer has been Linnea's first opportunity to share yoga with the community on a consistent basis. She loves to incorporate breath work and restorative postures into her gentle classes.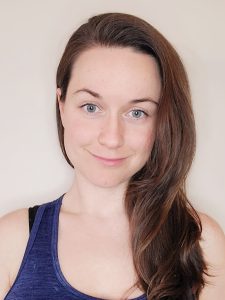 Crystall Howe–Vinyasa Yoga, Vinyasa Slow Flow
Crystall completed her 200 RYT certification through the RajaHatha School of Yoga with Amy Pearce-Hayden in 2022. Taking a holistic approach, she weaves yogic philosophy and techniques into all aspects of her life. She's passionate about helping others develop a more harmonious relationship with their body, mind, and heart so they can experience deeper levels of authentic joy within their lives. She encourages students to find balance between effort and mindfulness so that their practice can be personally integrative.  
Whether you're working on refining your alignment during a powerful vinyasa flow, focusing on incorporating breathwork, or exploring meditation, she's excited to contribute to your yoga journey.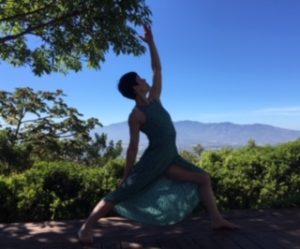 Sarah Melton–Vinyasa Yoga, Vinyasa Slow Flow
Sarah Melton is a Bhakti yogi and grateful human.  Yoga of the heart has been her vehicle for deep personal transformation and realignment with life.  She loves the heightened awareness that chanting and moving with breath invites.  She'll hold the space while you hold the postures and remember your way "through the self to the Self".  Sarah completed her 200-hour YTT through Perennial Yoga Wisdom School at Perennial Yoga in Fitchburg.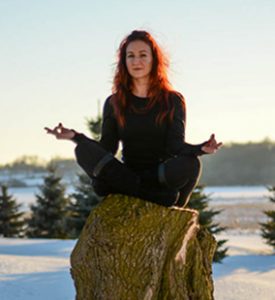 Abby Schopen–Vinyasa Yoga
"Practice yoga three times a week to change your body. Practice yoga every day to change your life" has been Abby's mantra since taking her first Yoga class at the age of 17. After years of informally teaching, she received her 200-CYT certification in 2012. She adds a playful exploratory element as she guides her students through proper alignment & breath work. 
Adrianna Moore–Power Flow
I have been an endurance athlete since college and had tried yoga numerous times based on recommendations from other runners.  It never stuck.  It wasn't until about 5 years ago when I was going through a turbulent time in my life that I came back to the mat to find some peace.  I struggled, but it helped.  I remember the relief it was to have an hour to just leave everything else behind and focus on not falling down!  I've been hooked ever since.  In the summer of 2019, I completed my 200-RYT through Kramas Yoga with Al and Jessica Noche.  In my free time I continue to run, bike, and hike, but yoga has become my daily practice of love and growth.  I love a challenging practice and hope to provide a safe space for students to learn, grow, and just have an hour to leave everything else behind.  Take what you need from it.  Hope to see you on the mat soon!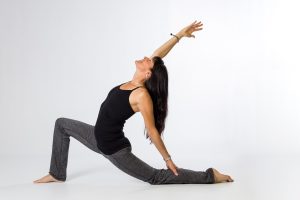 Beckie Jeffers–Vinyasa Yoga
Beckie has been a student of yoga for many years, but it was when she experienced yoga within a community of students practicing together that she truly fell in love with it. She loved it so much herself that she wanted to be able to share it with others and that's when she decided to become a teacher. She completed her 200-hour certification in 2011 and has been bringing yoga to others since then. She realizes that every body is different and yoga is for every body. She also knows that a person doesn't find yoga, yoga finds the person, when the time is right, yoga is an individual journey and is different for everyone. Along with this understanding, she brings her own journey into her teaching, sharing nuggets of experience while guiding each student into their own. She has a heart-centered approach to her teaching and encourages gratitude to flow with every breath.